Welcome Class of 2017!
09 September, 2013
Published on September 2, 2013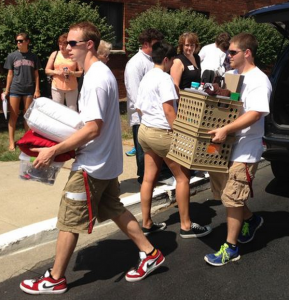 At this time of year, as Rose-Hulman first year students arrive and begin orientation, I always like to take a look at the Beloit College Mindset List, an inventory of the Class of 2017.  Every year the list makes its rounds among college faculty who realize once again that there is a large gulf between the old professors and the new students.
Here are the top ten on the list:
1. Eminem and LL Cool J could show up at parents' weekend.
2. They are the sharing generation, having shown tendencies to share everything, including possessions, no matter how personal.
3. GM means food that is Genetically Modified.
4. As they started to crawl, so did the news across the bottom of the television screen.
5. "Dude" has never had a negative tone.
6. As their parents held them as infants, they may have wondered whether it was the baby or Windows 95 that had them more excited.
7. As kids they may well have seen Chicken Run but probably never got chicken pox.
8. Having a chat has seldom involved talking.
9. Gaga has never been baby talk.
10. They could always get rid of their outdated toys on eBay.
Two items on the list grabbed my attention this year:  sharing and chatting.  These have direct implications for me as I help students develop their communication skills. Students who have shared their entire lives may be less prepared to do their own written work, preferring instead to work collaboratively on assignments but to the detriment of their own skills and abilities.  They also believe that conversation is conveyed with icons and fragments of texts, rather than directly between two people who can gauge the impact of their words through each other's responses (both verbal and non-verbal).  The solution, to my mind, is not to surrender to their preferences but to push beyond them.  I figure there is an engineering manager who will eventually hire one of my students, and she will, I hope, be grateful that I did.