Create Highly Functioning Virtual Teams with the Help of Metacommunication
03 March, 2016
Published on March 9, 2016
Most virtual teams are established with nothing more than a goal, a list of team members, and a lot of trial and error.  Miscommunication in these global teams is common and can cost companies millions in lost production.  Not only do companies lose out, but individuals often and needlessly experience frustration, confusion, and loss of credibility.
Of three strategies* that best help build highly functioning virtual teams, the most important strategy may be the tactical use of metacommunication (metacomm).  Metacomm is communicating about communication: it involves establishing communication expectations, norms and strategies for the group.  Its use helps teams of all kinds avoid miscommunication obstacles instead of crashing into them.  The biggest gains are made in virtual teams with international members.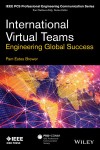 In International Virtual Teams: Engineering Global Success, Pam Estes Brewer demonstrates the power of metacomm and explains how to use it.  She explains the benefits of metacomm including how it can be used to improve professional image and navigate the gap between cultures.  Her advice:
"Communicate regularly about communication."
For example, delivering criticism can be an extremely delicate process, especially when it needs to be delivered across cultures. People interpret criticism in unexpected ways, especially across cultures.  As a result, problems can be made worse instead of better.  In order to make the process of correction more effective in virtual teams, use metacomm.  At the beginning of the project, during a session defining the communication expectations of the team (metacomm), ask and answer the following questions:
When is it ok to address a problem?
What technology do team members prefer for addressing problems?
How should someone receiving a correction respond?
Add other questions as needed for your virtual teams, and keep track of team expectations. Identify what communication expectations are most important, and establish where your perspectives match or where compromise is needed. Importantly, document your expectations.  See Figure 1, below, for a comprehensive series of steps. On pages 147 to 150 of International Virtual Teams: Engineering Global Success, Pam Brewer provides more tips for effective metacommunication strategies.

Summary: Metacommunication, when used to establish and maintain virtual teams, makes the difference between a low-functioning and high-functioning team.
*For more information on all three strategies, see Ch. 7 in International Virtual Teams.
---
Pam Estes Brewer, Ph.D. is an expert in international virtual team communication, having worked with and researched virtual teams globally.  Most recently, her book International Virtual Teas: Engineering Global Success was published by the IEEE Press at Wiley.
Dr. Brewer is currently a faculty member in the Mercer University School of Engineering in Macon, Georgia. In addition to being an experienced educator, she has worked as a technical communicator for such companies as Mead Data Central (now LexisNexis®) and Cincom Systems.  She is an Associate Fellow in the Society for Technical Communication and an adviser to the Academic Special Interest Group.  She is also a member of the IEEE Professional Communication Society and the Council for Programs in Technical and Scientific Communication.